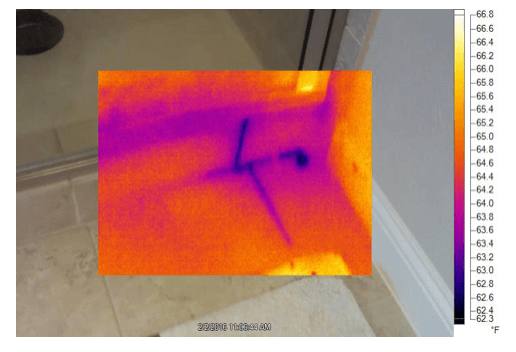 I had this subject come up today about a new construction inspection report finding.
During this new construction inspection, I found a shower enclosure leak (an alarmingly common major problem) with my Infrared Thermal Imaging Camera.  Water was escaping the shower enclosure at the back corner under the tile.  The Infrared Thermal Imager is a great tool to find this.  If at all possible, this moisture leakage is confirmed with a traditional moisture meter.  In this case, the moisture was confirmed with a moisture meter.
Most of the time with this issue, we are not talking about water visibly pooling on the bathroom floor beside the shower.  You need the Thermal Imager to see it leaking (can be problematic as most people don't walk around with a $10,000 thermal imager) or you need a moisture meter to check for elevated moisture in materials (somewhat more reasonable to expect a contractor to have, but few do.)
Back to this case study.  The client had called me because he was due to meet with the builder about the repairs soon.  The builder had agreed to repair most everything in the report. GREAT!  But they had stated multiple times that they had tested the shower and it was not leaking.  That the inspector either did not know what he was doing, did not know how to use the Thermal Imager, or was just plain making it up to make himself look better, or (the best comment/theory) had pointed the showerhead at the door and made water leak all over from around the door (I'm not an idiot, thanks!)
REALLY?!?!!?
With the caveat that I cannot guarantee that there are not any home inspectors around who might be alarmist, embellish things, or maybe even make things up – I know that I do not!!  Why on Earth would I?
Think about it.  From a purely theoretical standpoint, wouldn't my life be SOOOO much easier if I did not find anything major like this shower leak?  A finding that I know from experience is going to be an issue getting the builder to properly repair.  I do not have to make things up because there are plenty of problems in most every house, new or old, to be found and documented.  It is normal.  It is not personal.  Mistakes happen.  They are not documented because I want to "justify my fee" or anything ridiculous like that.  That is the JOB!  That is the whole point of the inspection!
At the end of the day, I do this job to try and help people.  Finding major issues that could possibly cause health problems and/or significant expense to repair is the main point.
I hope the client can get the builder to do the right thing here and everything will work out for everyone involved.  Think positively, right!